Sometimes I like to surf the web and find pretty things. This week I wanted to create an office space. I went for airy, light and pretty.  Do you ever just surf the web to find inspiration? I'm not sure how I want to decorate my office exactly, but the space I created below is swoon worthy, in my opinion. 🙂 Check out what I found. Hope you like it.
I love the white with touches of light pink. The white keeps the space crisp and airy and white personally, keeps me in a good mood. The pink adds a slight pop, but its still smooth and aesthetically pleasing to the eye.
Let's check out my finds. I found this blush chair from World Market. It's the Blush Elsie Upholstered Office Chair. What's not to love? This chair has tufted details, a velvet finish and a distressed grey wood base. It would look great in an office space.
Unfortunately when I went back to place the desk in this post it wasn't available anymore. What?! 🙁 I love the simplicity of the desk pictured above and I love that it is white. While I couldn't find this one exactly, there are other simple white desks available at Way Fair.
Aren't these curtains just the cutest? I love that the pattern doesn't cover the entire panel. You get interest at the top to tie in color and print and the bottom acts as a simplistic anchor. Get them from Anthropologie. They are called the Felicity curtains.
I also found this Waverly Rug at Athropologie. If this were my real office I would have a grey washed wood floor so I love the idea of a simple white rug. The tassels on each end add just the right amount of character.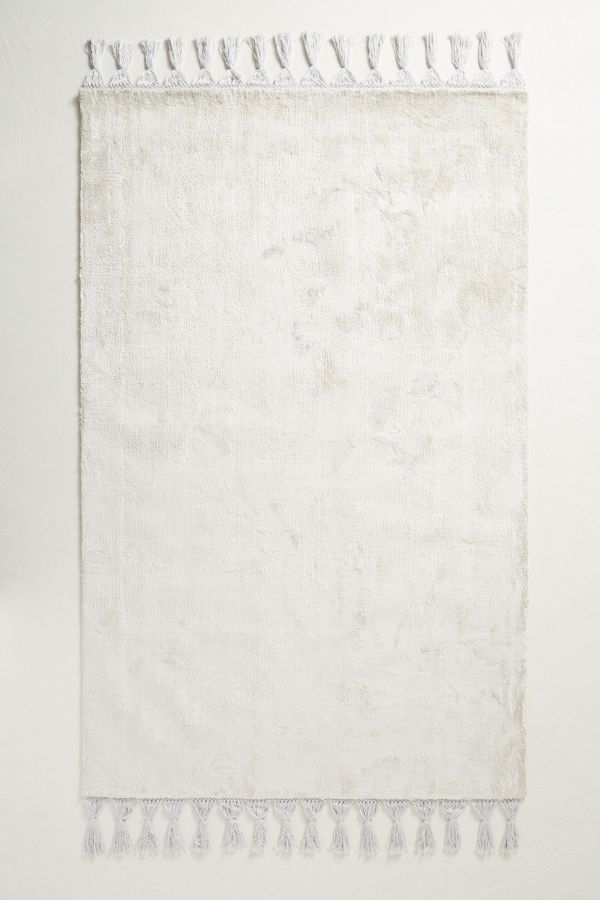 I'm obsessed with arched mirrors these days. With so many white and light pieces in this space I like the contrast with the dark metal trim. How dreamy is this piece? It's from Wayfair and is called the Crewe Mirror from Birch Lane.
There you have it! These are a few key pieces needed to create my inspired look. I hope you can find your own to create and inspired room.